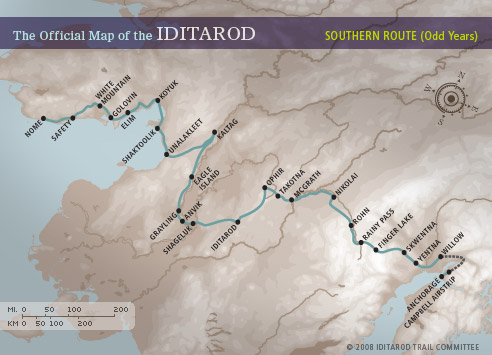 I just turned on my computer and checked out the mushers stats and there is Buser at the top of the list. I like to see that! Still a long ways to go but I like how it looks now. He was in to Finger Lake at 4:30 am? Oh my goodness. That is early, and he got back out onto the trail in five minutes; according to
Cabelas Iditarod
, he was traveling almost 12 miles an hour. Next check point is Rainy Pass. (
Map from Iditarod.com
)
Zack Steer, Jim Lanier, cim Smyth, and Doug Swingley are right behind him right now. It's anybody's race right now. I hope they are all staying warm out there.
I went to Anchorage's Native Musicale on Friday and Saturday nights and enjoyed listening to the gospel music coming from all over Alaska. I had a bit of a hard time the first night I was there being that my sister Millie is normally there every year and this year she wasn't and I sure felt that change.
After church on Sunday most of the family showed up here at the Lake and so Sunday also whizzed on by. We played games in the evening and enjoyed Calli's yummie Taco Soup.
Her soup is fast and easy to make. She browns hamburger and adds 1/2 cup of taco seasoning, 1-1/2 cups of water and to that she adds 2 small cans each of red beans, black beans, and one can of kidney beans; 1 can of chopped tomatoes and lets that stew for a bit. It's then ready for the bowls and a dollop of sour cream and grated cheddar cheese. The way to eat it is with corn chips on top of that; Kim brought a big bag of those too. Taco soup is so good and Calli said so easy to make. She fed ten of us with that recipe. Thanks Calli!
Marie made "The Best Chocolate Chip Cookies Ever" recipe that I believe she got from her good friend Sarah. They are the best cookies ever, especially if you love chocolate chip cookies. I will share her recipe another time.
It's blowing pretty hard again today. Palmer and Wasilla are very windy cities and many times it's not blowing out here in Big Lake when it is there. Today, it is! Supposed to be gusting up to 70 m.p.h.; it sounds like that right now.
Angie of Northern Girl attended the start of the Iditarod race in Anchorage and she has some fun and beautiful pictures to share. You should check them out.
Nothing new about my Sister down South; still missing you (((((((burgundyrose))))))))
Day 69